Monzaemon
Kanji

門左衛門

Rōmaji

Monzaemon

Profile

Gender

Male

Age

18

Birthday

February 3

Hair Color

Blue

Eye Color

Blue

Blood Type

B+

Nen

Type
Abilities

Guillotine
Harpoon
Butterfly Knife
Chikamatsu (近松 Chikamatsu)
Appearance
Edit

Personality
Edit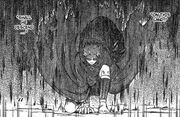 Nen Abilities
Edit
Monzaemon's Nen Type: Transmutation
Type: Transmutation
Guillotine (実行ブロック Execution Block)
Monzaemon is a Transmuter and as such has the ability to project his aura from his body and have it take on the properties of something else; in his case, a blade. His "Guillotine" technique creating a blue aura blade extending from his elbow to several feet past his hand, taking the shape of a long katana-like blade.
Type: Transmutation
Harpoon (銛 Harpoon)
Monzaemon's "Harpoon" ability involves him creating an aura blade around his arm and then extending at a high speed like a bullet. It then pierces the target and can then be retracted and extended again on command.
Type: Transmutation
Butterfly Knife (手の短剣 Hand Dagger)
Possibly Monzaemon's most suitable aura blade when used in hand to hand combat, it creates a blade extending from his wrist and around his hand and appears to be more oriented, but not limited to slashing rather than stabbing. He used this when he fell under the hypnotic effects of [[]]'s Manipulative nen in order to commit suicide.