Gullier
Kanji

ガリアー

Rōmaji

Gariā

Also Known As

Debuts

Manga Debut

Fanon

Portrayal

Japanese Voice

Profile

Gender

Male

Age

Unknown

Height

30 cm

Weight

3 kg

Birthday

Unknown

Hair Color

White

Eye Color

Brown

Blood Type

Unknown

Relatives

Unknown
Gullier (ガリアー, Gariā) is a small sheep and one of Max's companions. He was once a human, hence his ability to speak.
Appearance
Edit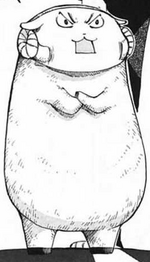 Gullier's a small sheep, with two curvy horns on each side of his head. His fur is thick, curly and white, and he has small limbs. Max commented that he was far too heavy for his size.
It is unknown how he looked like as a human.

Personality
Edit
Gullier is an arrogant person, constantly talking trash about people he dislikes and acting like he's a big shot around everyone else. He has a hot temper and is quite egocentric, showing a cocky attitude as if he wasn't aware he has the form of a baby sheep. He can also change his behavior instantly, to avoid the attention of strangers.
He seems to keep some of his human habits, as he smokes frequently. He is also very regularly seen chasing women around or at least harassing them. He did, however, develop sheep-like traits, as he enjoys eating grass and is frightened by the sight of a razor.
At an unknown point in time, Gullier, an accomplished man, was struck by a Nen curse that made him assume the form of a baby sheep.
Abilities
Edit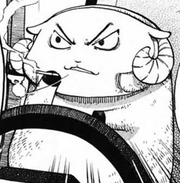 Although he is practically inoffensive, Gullier can still talk and think like a human, and can also stand on two feet. He also showed to have enough dexterity to drive a car.
References
Edit