"Don't look away..."

— Gertha
Gertha
Kanji

ジェルサー

Rōmaji

Jerusā

Also Known As

Debuts

Manga Debut

Fanon

Profile

Gender

Unknown

Age

Unknown

Height

200 cm

Weight

25 kg

Hair Color

Unknown

Eye Color

Unknown

Blood Type

Unknown

Occupation

Member of Zero

Nen

Type
Gertha (ジェルサー, Jerusā) is a member from the terrorist group Zero. He is the most mysterious of all members, as there is very little information surrounding him. It seems that he does not possess a traceable identity, either. The causes of such phenomenon are unknown, although a nomadic life of secrecy seems to be the most plausible of hypotheses.
Appearance
Edit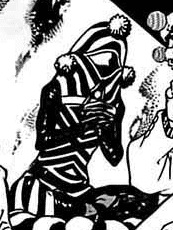 Gertha is of unknown gender (though it is likely he is male) and age. He is the tallest of all members of Zero, reaching 200 cm (2 meters or 6'6") in height. However, he is strangely light, with only 25 kg (55 lbs.) of weight. His facial features are unknown, as well as his body's.
He dons a very unique outfit that conceals his entire natural appearance. The clothes he uses consist of a large black and white garment, with striped patterns that adorn the entire clothing. The suit extends to cover his head, where there are three tassels, one on top and two on the sides, and the face of the suit has a black triangular shape. The part of the outfit that covers his feet and arms is completely black, lacking the pattern of the rest of the clothes.
Personality
Edit
Nen Abilities
Edit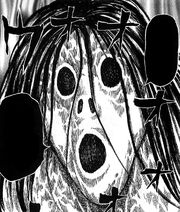 Gertha's Nen Type: Manipulation
Type: Manipulation
Nightmare (見て見ぬ振り To Turn a Blind Eye)
Befitting his obscure and eerie nature, Gertha possesses a rather unique form of Manipulation Hatsu that controls his targets' perception. According to his fellow members of Zero, "Nightmare" is a particularly effective skill because it revolves around the control of the victim's cognitive bias. Humans have a tendency to pay attention to things with a subconscious bias (for example, one's desires and wishes lead him to be more aware to things in his surroundings related with said wishes), and Gertha influences this cognitive phenomenon to manipulate opponents in battle.

When first debuted, it was thought that Gertha's power relied on the inducement of nightmares or fearful visions against his foes; however, it was later discovered he simply focused their minds in subconscious details that evoked such thoughts from their brains. Later, it was explicitly shown another usage for his "Nightmare" power: whilst attacking with his palm, Gertha forced his target to pay attention to his left foot and subsequently reduce alertness from the rest, providing a great chance for a hit. He could also make it so that the victim is so focused on something that they believe Gertha isn't near them or even approaching them frontally.
References
Edit