De Sade
Kanji

ド・サド

Rōmaji

De Sado

Also Known As

Debuts

Manga Debut

Fanon

Portrayal

Japanese Voice

Profile

Gender

Male

Age

33

Height

180 cm

Weight

73 kg

Birthday

June 2

Hair Color

Blonde

Eye Color

Blue

Blood Type

AB-

Occupation

Member of Zero

Affiliation

Nen

Type
Abilities

Hitman Dreams
De Sade (ド・サド, De Sado) is a member of Zero, a terrorist organisation. His areas of expertise are torture and abduction.
Appearance
Edit
De Sade is a bespectacled, lean and tall adult man, with fair skin, blonde hair kept in a comb over and blue eyes. His outfit consists of a brown tweed suit, with a formal blue shirt underneath and a striped red and black tie. He also wears formal black leather shoes.
He has an expensive clock on his left wrist and owns two 9mm pistols which he sometimes carries with him hidden underneath his clothing.
Personality
Edit
De Sade has a very unpredictable character, which contrasts greatly with his seemingly polished appearance and proper demeanour. His behaviour is most often calm, collected and pleasant when interacting with fellow Zero members. His sociopath behaviour is displayed commonly when De Sade interacts with strangers, victims and targets. In these moments, he shows no empathy or regard towards the well-being of others, regularly playing sadistic mind games with which he takes pleasure in psychological torture. However, this cold hearted side can also come out when dealing with his acquaintances, and in these times, De Sade resorts to death threats and displays of power to antagonise and intimidate whoever gets on his nerves.
Capable hand-to-hand combatant:
Excellent marksmanship: De Sade's most prominent fighting skill is his use of pistols.
Master torturer: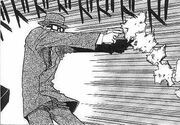 Nen Abilities
Edit
De Sade is a Specialist. However, he employs Emission more commonly through his remarkable marksmanship.
De Sade's Nen Type: Specialization
Hitman Dreams (耳障りな予感 Strident Premonition)
De Sade conjures a strange looking AM/FM radio, resembling an inverted bottom half of a face. One of the dials allows him to listen to the last moments (15-20 seconds) of the life of any person (dead or alive) he has heard talking before. This audio can be replayed as many times as wished, but is impossible to record, meaning the only way to listen to it is to have the radio summoned. The second dial allows the user to hear his own death, but he is limited to listening to it once.
De Sade is inspired by real life French aristocrat and revolutionary Marquis de Sade, best known for his erotic works that inspired the terms "sadism" and "sadist". They share the same birthday.
References
Edit