Cain Hunter
Kanji

カインハンター

Rōmaji

Kainhantā

Also Known As

"Virus Star"

Profile

Gender

Male

Age

23

Birthday

December 31th

Hair Color

White

Eye Color

Green

Blood Type

O+

Occupation

Hunter

Nen

Type
Abilities

Speed Increase

Armor Conjuring

Perceptions Manipulation
Cain Hunter (カインハンターKainhantā) is a hunter examinee who passed in the 321th Hunter Examination. He is a specalist type but also has very fairly good levels all other nen types except for Enhancement. His levels, as told to him by Jack Kenjuts, are 35% Enhancement, 80% Transmutation, 61% Conjuration, 68% Emission, 75% Manipulation, and 100% Specilization.
Appearance
Edit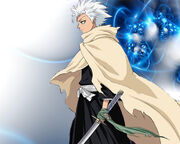 Cain is a 23-year-old man but due to the fact that he stopped growing at the age of 16, he has the appearance of a teenager. He has white hair, dark skin, and green eyes. He usually wears samurai-type clothing. His hair is very rigid and his eyes, like most, are massive. He wears a white karate belt to hold together his robe which is usually black. He also usually wears a tan cape which was given to him by the late Jack Kenjuts. 
Personality
Edit
Although, Cain is a specialist he tends to barely every tell anyone important things about him. He is a big liar, who is regraded by most as a weirdo. He is also a very logical person who has evolved at his own pace.
Cain is very determined and when it comes to pursing his goals, he could care less about what others think. He is very impatient. He tends to overlook flaws in his plans. He is hot-blooded and quick-tempered. He also tends to calm down and forget easily.
Although, he overlooks flaws in his plans, he rarely falls into traps because he is a quick thinker. He is high-strung and overly cautious. Due to his natural charisma, people seem to be drawn to him but he avoids being close to any of his friends.