Byron
Kanji

バイロン

Rōmaji

Bairon

Also Known As

Debuts

Manga Debut

Fanon

Portrayal

Japanese Voice

Profile

Gender

Male

Age

47

Height

194 cm

Weight

88 kg

Birthday

January 1st

Hair Color

Dark brown

Eye Color

Brown

Blood Type

O+

Occupation

Hunters Association Chairman

Nen

Type
Byron (バイロン, Bairon) is the chairman (会長, kaichō) of the Hunters Association.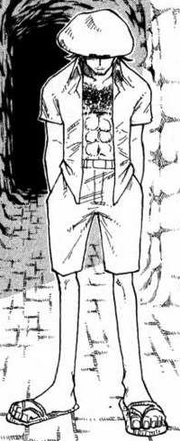 Byron is a middle-aged man, with brown eyes and dark brown, spiky hair, kept under a baggy beanie. He also has a pair of red sunglasses on his head. He has a small goatee. Byron sports a beige shirt, that resembles a Hawaiian shirt, with floral patterns on the collar. He was also seen using a similar shirt, but with circular patterns. He keeps his shirt opened, revealing his hairy chest and muscular body. He dons a pair of shorts and straw sandals.
Water skipping:
Immense endurance:
Genius intellect: Byron's genius is the main reason why he achieved the position of chairman. Although proficient in combat skills, his true prowess is strategizing and quickly adapting to any battle situation.
Byron's Nen Type: Conjuration
Type: Conjuration and Manipulation
Sakura-chan (女学生と倒錯者 A Pervert and a Schoolgirl)
Byron's "Sakura-chan" is a seamless Hatsu ability. Whilst simple in concept, its execution requires enormous skill in Nen. He summons a teenage girl, which he refers to as "Sakura-chan", dressed in a schoolgirl outfit. Sakura can do a variety of tasks when commanded by Byron, although she does possess a temper that may lead to refusal. As stated by him, these tantrums are most likely caused by "a lack of perfect control over [his] aura". In most cases, she can be seen helping with paperwork and organisation around his office. In severe situations, she is summoned for help in battle, and the two perform a series of coordinated attacks capable of making the toughest of opponents struggle.
Community content is available under
CC-BY-SA
unless otherwise noted.